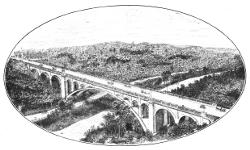 Walnut Lane Bridge, which carries Walnut Lane over Wissahickon Creek in the city of Philadelphia, is a beautiful, century-old concrete arch bridge located in picturesque Fairmount Park. Construction of Walnut Lane Bridge, whose design is based on Pont Adolphe, a bridge spanning the Patrusse River in Luxembourg, began on July 5, 1906. The bridge's construction was not without tragedy; on December 27, 1907, a portion of falsework that was being removed collapsed, killing one worker and injuring seven, two seriously. At the time of the bridge's official opening, which took place on December 16, 1908, the bridge was the world's largest concrete arch bridge. The bridge's centenary was celebrated in 2008, at nearby Cliveden, whose exhibit about the bridge's construction that ran from May to October featured a collection of historic lantern slides. The bridge is currently undergoing restoration, was closed on April 1, 2016, and will reopen on September 28, 2016.
Contents
Nearby Points of Interest
Note: The previous site at this location no longer exists. For information from that site, see either The Internet Archive or Cliveden of the National Trust. The current site owner is not affiliated with the previous owners.
External Resources
Walnut Lane Bridge
Other Topics