Jump to: History, Statistics, Sources Used.
History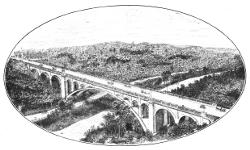 Walnut Lane Bridge (not to be confused with the Walnut Lane Memorial Bridge that bridges Lincoln Drive and Monoshone Creek slightly over ½-mile to the east, or with various Walnut Street bridges in Philadelphia and elsewhere) is a century-old concrete arch bridge in Philadelphia that carries Walnut Lane over Wissahickon Creek in Wissahickon Valley Park, part of Philadelphia's Fairmount Park system. The bridge connects the neighborhoods of Germantown to the east and Roxborough to the west. At the time it was built, it was the world's largest concrete arch bridge. Like many old, beautiful bridges, little of its elegance is noticed by the thousands who drive over the bridge daily; the bridge's beauty can be best appreciated from underneath, either from Forbidden Drive or from a hiking trail, both of which run underneath the bridge. The bridge's design was copied from Pont Adolphe, a bridge completed in 1903 that was constructed from stone and concrete and spans the Patrusse River in Luxembourg.
The story of Walnut Lane Bridge dates back to the late 19th century. At that time, there was no direct bridge connection between two populous areas of Philadelphia, Roxborough and Germantown, which were separated by Wissahickon Creek and its narrow but deep valley. Travel between the two adjacent areas required long detours and could sometimes take hours, and what bridges did exist were low-level bridges with steep grades, making transportation of heavy loads difficult if not impossible.
On July 13, 1905, Philadelphia City Council authorized the construction of a high-level bridge to connect the two neighborhoods. The creek was to be bridged at the narrowest point of the ravine, along the line of Walnut Lane. The task of designing the bridge fell to the chief engineer of the Philadelphia Department of Public Works, George S. Webster, and assistant engineer Henry H. Quimby.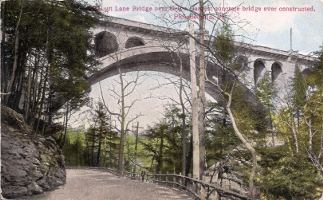 In addition to the geographic features of the valley, aesthetic considerations would also play a part in the design of the bridge, for the bridge would traverse Fairmount Park, a large, scenic natural area in Philadelphia, and would bridge, in addition to the creek, the scenic Wissahickon Drive (known as Forbidden Drive since the early 1900s when automobiles were forbidden to drive on it) on the west bank of the creek and a bridle path (used mostly as a hiking trail today) on the east bank. It was felt that a concrete arch bridge would meet both the engineering and the aesthetic needs. Concrete was still a relatively novel building material at the time, but a good choice for an arch bridge, as concrete is strong in compression; while concrete is not as strong in tension, the amount of tension in an arch bridge is quite low. As well, the graceful arch would complement the natural beauty of the setting while allowing an unobstructed view of the creek from the scenic drive.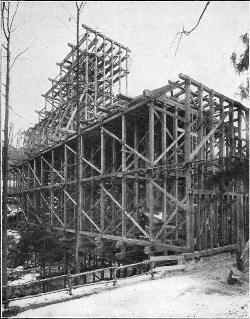 Construction on the bridge began on July 5, 1906 and would take over two years. The arches were constructed by means of building a large falsework structure of steel and wood, and concrete was poured into the forms. Unlike modern concrete structures, which make liberal use of reinforcing steel, the bridge was almost entirely unreinforced except for the bridge floor and the sidewalks. Construction would be marred by a tragedy. On December 27, 1907, workmen were removing falsework from a span when the rest of the framework under that span collapsed. One worker, Martin Simpson, was killed, and nine others were injured, two seriously.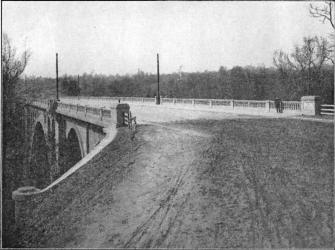 Construction on the bridge was completed on October 14, 1908, when it was opened to pedestrian traffic while grading was completed on the approaches. The bridge was dedicated on December 16, 1908 and opened to vehicular traffic. The bridge cost $259,440 to build (over $6 million today), excluding the cost of the light standards. At the time that it was opened, it was the largest concrete arch bridge in the world, both in terms of length (the main span was 233 feet long, eclipsing the 230-foot long main span of the Grunwald bridge over the Isar at Munich) and height (147 feet above Wissahickon Creek). More importantly for residents of Philadelphia, the bridge reduced the time needed to travel between Roxborough and Germantown from a half-day to minutes.
The honor of the largest concrete arch bridge in the world, or even in the United States, would be short-lived. By the time Walnut Lane Bridge was completed, Rocky River Bridge (also known as the Detroit Avenue Bridge), in Cleveland, Ohio, was already under construction. It was completed in 1910 and had a main span of 280 feet, 57 feet longer than that of Walnut Lane Bridge. Rocky River bridge is still the longest unreinforced concrete arch in the United States. Also under construction at that time was the Grafton Bridge in Aukland, New Zealand, with a 320-foot main span. While Walnut Lane Bridge had previously been featured in periodicals of national scope such as Scientific American, it would now be mentioned only in local newspapers, the sole exception being news items about people who took their own lives falling from the bridge. Over the years, many people have leaped to their death from the bridge, and as a result the bridge was popularly referred to as "Suicide Bridge" for a number of years.
In 2008, Walnut Lane Bridge celebrated its centennial. The anniversary of the bridge's completion was celebrated by Cliveden, a nearby museum in Germantown. Between May and October 2008 Cliveden hosted an exhibition and educational program about Walnut Lane Bridge and its construction, including a collection of rare lantern slides.
Walnut Lane Bridge has started to show signs of its age. In 2010, an inspection of Walnut Lane Bridge found falling concrete; this discovery resulted in Forbidden Drive being closed for a few months while a shed was built to protect hikers, cyclists, and other recreational users. In 2011, the Pennsylvania Department of Transportation (Walnut Lane is a state road, State Route 4013) announced a $7.1 million dollar renovation of Walnut Lane Bridge, the majority of which will be paid for through federal highway funds. This renovation was originally scheduled for 2013 and was later rescheduled to 2015; however, in April 2015 the lowest bidder for the project failed to pass a background check and the construction was rescheduled for 2016. The project will involve removing and replacing the roadway, improving lighting, railings, and sidewalks, replacing of the concrete balustrades, and repairing the drainage systems and the slopes beneath the bridge, as well a redesign of the traffic circle immediately to the east of the bridge. With this renovation, Walnut Lane Bridge can continue to serve the residents of Roxborough and Germantown for many years to come.
Statistics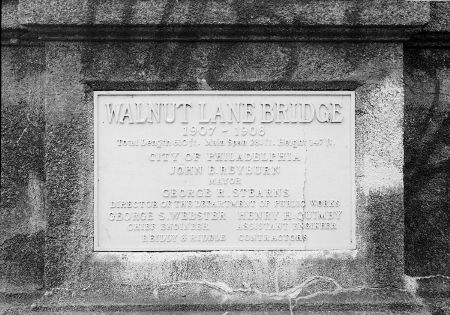 | | |
| --- | --- |
| Name | Walnut Lane Bridge |
| Location | Fairmount Park, Philadelphia, PA |
| Carries | Walnut Lane |
| Over | Wissahickon Creek (as well as Forbidden Drive and a hiking trail) |
| Type of Bridge | Unreinforced concrete arch |
| Total Length | 585 feet |
| Main Span Length | 233 feet |
| Height | 147 feet |
| Deck Width | 56.5 feet (40-foot roadway, two 8.25-foot sidewalks) |
| Engineers | George S. Webster, Henry H. Quimby |
| Contractors | Reilly & Riddle |
| Cost of Construction | $259,440 |
| Construction Started | July 5, 1906 |
| Construction Completed | October 14, 1908 |
| Open to Traffic | December 16, 1908 |
Sources Used
Grady, Matt. "Proposed revisions to Walnut Lane Bridge project announced." NewsWorks <http://www.newsworks.org/index.php/local/item/60886-proposed-revisions-to-walnut-lane-bridge-project-announced> (October 16, 2013).
Grady, Matthew. "Walnut Lane Bridge slated for six-month closure in 2014." NewsWorks <http://www.newsworks.org/index.php/local//roxborough-feature/48229-walnut-lane-bridge> (December 12, 2012).
Herman, Andrew Mark. Along the Wissahickon Creek
(Arcadia Publishing, 2004).
Historic American Engineering Record, Walnut Lane Bridge (HAER No. PA-504) (National Park Service, Washington, D.C., 2001).
Janberg, Nicolas (ed.) "Walnut Lane Bridge." Structurae <http://en.structurae.de/structures/data/index.cfm?ID=s0010874> (2012).
Quinn, Amy Z. "Walnut Lane Bridge repair project expected to begin in 2013; drivers should plan for 3.5-mile detour." Newsworks. <http://www.newsworks.org/index.php/component/flexicontent/item/36597-walnut-lane-bridge-> (April 6, 2012).
Scally, Bernard J. "Walnut Lane Bridge project delayed a year." Roxborough Review. <http://www.montgomerynews.com/articles/2015/04/14/roxborough_review/news/doc552d9d735dfc0677988355.txt?viewmode=fullstory> (April 14, 2015).
Stewart, J. A. "The New Bridge Over the Wissahickon at Philadelphia." (Scientific American, November 30, 1907, pp. 392–393).
Tyrrell, Grattan H. Concrete Bridges and Culverts: For Both Railroads and Highways
(The Myron C. Clark Publishing Co., Chicago, 1909).
Webster, George S., and Henry H. Quimby. "Walnut Lane Bridge, Philadelphia." (American Society of Civil Engineers, Vol. 65, 1909, pp. 423–461).
Weitzman, David. Windmills, Bridges, and Old Machines: Discovering Our Industrial Past
(Atheneum, 1982).
"Concrete falling from Walnut Lane Bridge closes part of Forbidden Drive." Philadelphia Inquirer (Philadelphia, November 27, 2010).
CPI Inflation Calculator. <http://data.bls.gov/cgi-bin/cpicalc.pl>.
"Falsework of Bridge Collapses." (New-York Daily Tribune, December 28, 1907, p. 3).
"Germantown News Stories, April 14–28, 2011." Germantown Newspapers. <http://www.germantownnewspapers.com/Germantown_News_041411.html> (April 28, 2011).
"Long Fall Kills Banker." (New-York Sun, June 11, 1911, p. 14).
"Motorists Oppose "Forbidden Road" Along Wissahickon." (Philadelphia Evening Ledger, August 2, 1915, p. 2)
"Rep. Fattah: Walnut Lane Bridge Repair Plan Is Win-Win for Jobs, Infrastructure," Congressman Chaka Fattah. <http://fattah.house.gov/index.cfm?sectionid=34&parentid=247&sectiontree=247,34&itemid=929> (June 27, 2011).